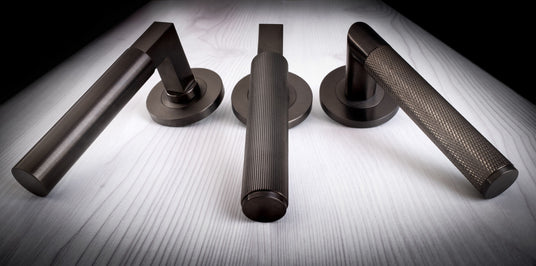 Navigating through the Trade Door Handles website is a breeze. Our intuitive search and filter system allow you to effortlessly refine your choices by style, finish, and price. This ensures a seamless experience in discovering the perfect Alexander & Wilks products that align with your requirements. We empower you to embark on your home decor projects with confidence and finesse.
Discover The Alexander & Wilks Collection
Alexander & Wilks - Door Handles and Knobs

Explore our beautiful collection of door handles on roses, including designs like the Spitfire & Hurricane, available in knurled, reeded, and smooth variations. These handles come in various trendy finishes, along with a range of classical mortice knobs. See the range
Alexander & Wilks - Door Furniture Accessories

Complement your door furniture with our complete range of door furniture accessories, available in various styles and finishes. From bathroom turns to door stops and escutcheon, we've got you covered. See the range
Alexander & Wilks - Kitchen and Cabinet Hardware

Elevate your kitchen and cabinets with our exquisitely designed knobs and pull handles. They come in various sizes and finishes, all crafted to complement your home's aesthetic. See the range
Alexander & Wilks - Accessories

Enhance your living spaces with our range of accessories, including hat and coat hooks and handrail brackets, all available in various finishes. See the range
Alexander & Wilks - Locks and Latches

Secure your spaces with our quality Rim Locks and Rim Latches, available in various styles, sizes, and finishes to perfectly complement the ironmongery range. See the range
At Trade Door Handles, we are committed to making your shopping experience effortless and enjoyable. Our user-friendly website is designed to help you seamlessly explore our extensive range of Alexander & Wilks products. You can easily narrow your search using convenient filters for finish and price, ensuring you discover the perfect items to match your budget and personal style.
Now is the moment to embark on your home transformation journey with Trade Door Handles. Rely on us to provide you with beautiful, exceptional-quality products that stand the test of time. Take a moment to browse our selection today, and you'll quickly notice the difference that meticulous attention to detail can make. Your home deserves the best, and Trade Door Handles is here to deliver.