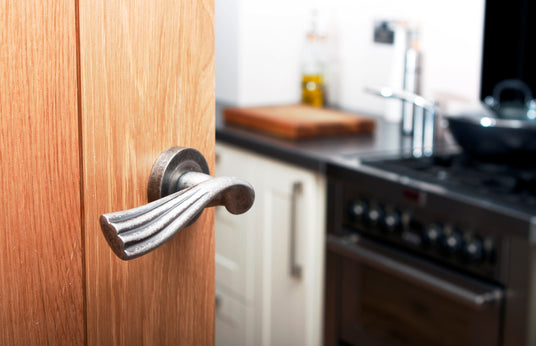 Our collection features over 100 unique designs sourced from esteemed brands like Millhouse Brass, TUPAI, Forme, Senza Pari, Old English, Status, and Clean Touch. We also provide a range of accessories, including sliding door gear from Ermetika and high-quality euro cylinders from AGB. With Trade Door Handles in Kendal, you can conveniently source all these exceptional products under one roof.
Exploring our Trade Door Handles website is a breeze, thanks to our intuitive search and filter system. This tool enables you to effortlessly refine your choices by style, finish, and price, ensuring you discover the perfect Atlantic Hardware products that match your specific requirements. Empower yourself to embark on your home décor projects with confidence and finesse.
Discover The Atlantic Hardware Collection
Atlantic Hardware - Door Handles and Knobs

Atlantic Hardware offers a wide collection of Door Handles and Knobs. Our selection includes door handles on backplates with various designs, offering options like Latch, Standard Key Lock, Euro Profile Lock, and Bathroom Locks. We also offer a diverse range of door handles on square and round roses, along with a small collection of mortice knobs. See the range
Atlantic Hardware - Door Furniture Accessories

Enhance your door furniture with Atlantic Hardware's complete range of door furniture accessories, available in various styles and finishes. Choose from bathroom turns, finger plates, and escutcheon to complement your door furniture range. See the range
Atlantic Hardware - Kitchen and Cabinet Hardware

For cabinet enthusiasts, Atlantic Hardware provides a small range of cabinet knobs and pull handles designed to complement the Old English collection and the new Millhouse range. These products are available in various sizes and finishes, ensuring you find the perfect match for your cabinetry. See the range
Atlantic Hardware - Hinges

Atlantic Hardware offers a large range of hinges designed to the highest standards. We aim to meet the requirements expected from one of the UK's leading ironmongery brands. Our selection includes finishes like copper, antique brass, matt black, satin nickel, satin bronze, and more. See the range
Atlantic Hardware - Accessories

In addition to our quality supplies, Atlantic Hardware offers a wide range of accessories for every corner of your home. From hat and coat hooks to door stops, window and door bolts, and products for fire doors, we have considered every detail. These accessories are available in a variety of finishes to suit your preferences. See the range
Atlantic Hardware - Locks and Latches

Atlantic Hardware presents a vast range of Locks and Latches, meeting the highest security standards in the UK. Our offerings include 3 & 5 Lever Locks, bathroom locks, DIN locks, euro cylinders in various finishes and sizes, all meeting BS security standards and fire tests. We also offer a range of magnetic locks and latches to create a seamless look on the edge of your door. Many of these products are available in various finishes. See the range
At Trade Door Handles, we are committed to simplifying your shopping experience. Our user-friendly website allows you to effortlessly explore our extensive range of Atlantic Hardware products, narrowing your search using filters for finish and price. It's time to start your home transformation journey with Trade Door Handles. Count on us for beautiful, exceptional-quality products that stand the test of time. Browse our selection today, and experience the difference meticulous attention to detail can make. Your home deserves the best, and Trade Door Handles is here to deliver it.