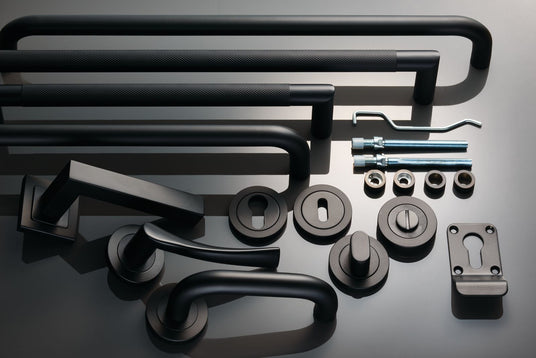 At Trade Door Handles, we take immense pride in offering the complete collection of Carlisle Brass products. From Door Hardware and Window Hardware to Cabinet Hardware, Locks, and Latches, we have every aspect of your project covered. Choosing Carlisle Brass means choosing a brand with a legacy of excellence and an unwavering commitment to quality.
Carlisle Brass encompasses several brands, and if you want to delve deeper into their history, click the link below to explore our blog about the rich heritage of Carlisle Brass.
Navigating through the Trade Door Handles website is a breeze, thanks to our intuitive search and filter system. Effortlessly refine your choices by style, finish, and price, ensuring a seamless experience in finding the perfect Carlisle Brass product that aligns with your project requirements. This empowers you to embark on your home décor projects with confidence and finesse.
Discover The Carlisle Brass Collections
Carlisle Brass - Door Handles and Knobs

Discover the Exquisite World of Carlisle Brass Door Handles and Knobs

Carlisle Brass introduces a captivating array of Door Handles and Knobs that redefine elegance and functionality. Our extensive selection showcases diverse designs on back plates, perfectly suited for Latch, Standard Key Lock, Euro Profile Lock, and Bathroom Lock installations. Explore our versatile range, including Espagnolette door handles for Multi-point locking door systems (70 & 92mm centres), Door handles for sliding door/Pocket door systems, Pull Handles, Mortice Knobs, and Rim Knobs, designed to elevate your living spaces. See the range
Carlisle Brass - Door Furniture Accessories

Enhance Your Décor with Carlisle Brass Door Furniture Accessories

At Carlisle Brass, we go beyond just door handles and knobs. Our comprehensive collection of door furniture accessories seamlessly complements our door furniture range. From bathroom turns to elegant finger plates for internal doors, eye-catching door knockers, and premium escutcheon for external doors, we provide a complete package to elevate your door aesthetics. See the range
Carlisle Brass - Window Furniture

Elevate Your Home with Carlisle Brass Window Furniture

Transform your windows into stunning focal points with Carlisle Brass's extensive Window Furniture range. Immerse yourself in a world of style, offering a variety of designs, sizes, and finishes. Whether you have sash windows, casement window systems, fan light (hopper) windows, or Espagnolette windows, we offer both locking and non-locking options to enhance security and provide peace of mind. See the range
Carlisle Brass - Cabinet Hardware

Upgrade Your Kitchen with Carlisle Brass Cabinet Hardware

For those who seek sophistication in their kitchen and cabinet hardware, Carlisle Brass proudly stands as the UK's foremost supplier. Explore the Finger Tip Design range, featuring Cabinet Knobs, Pull Handles, Edge Pulls, Drop Pulls, and T-Pulls in an array of captivating designs, finishes, and sizes, all meticulously crafted to complement your home's unique style. See the range
Experience Unmatched Quality with Carlisle Brass Hinges

Carlisle Brass presents a diverse range of meticulously crafted hinges designed to meet the highest standards. Our selection includes typical 3 & 4-inch ball bearing hinges as well as rustic Tee hinges within the Ludlow collection, catering to various applications. We also offer hinges specially designed for kitchen and cabinet doors as part of the FTD range. See the range
Carlisle Brass - Locks and Latches

Choose Premium Security with Carlisle Brass Locks and Latches

Explore a wide range of Locks and Latches meticulously crafted by Carlisle Brass, designed to meet the most stringent security standards in the UK. Our collection includes 2, 3 & 5 Lever Locks, bathroom locks, DIN locks, and euro cylinders, all available in various finishes and sizes, ensuring compliance with BS security standards and fire tests. Additionally, we offer traditional quality rim locks within the Alexander & Wilks range, available in Polished Nickel, Brass, and cast Iron. See the range
Carlisle Brass - Electrical Switches and Sockets

Experience Brilliance with Carlisle Brass Electrical Switches and Sockets

Welcome to the world of EuroLite, a distinguished sub-brand of Carlisle Brass, dedicated to top-tier light switches and sockets. Since 1998, EuroLite has consistently delivered unparalleled quality and craftsmanship, utilizing fully certified interiors sourced from industry leaders such as Crabtree, Volex, and Eurolite itself. Choose EuroLite for unmatched reliability, safety, and sophistication in your electrical fittings. See the range
Carlisle Brass - Accessories

Discover Thoughtful Accessories by Carlisle Brass

Carlisle Brass offers a diverse range of accessories designed to enhance your living space. From stylish hat and coat hooks to dependable door stops, secure window and door bolts, and cutting-edge acoustic and intermission products for fire doors, Carlisle Brass has thoughtfully curated everything you need to complete and elevate your home. See the range
At Trade Door Handles, we're dedicated to simplifying your shopping experience, making it effortless and enjoyable. Explore our extensive range of Carlisle Brass Hardware and Ironmongery products with ease, thanks to our convenient filters for finish and price. Discover exceptional-quality products that stand the test of time and transform your home. Your home deserves the best, and Trade Door Handles is here to deliver. Start browsing today and experience the difference meticulous attention to detail can make.