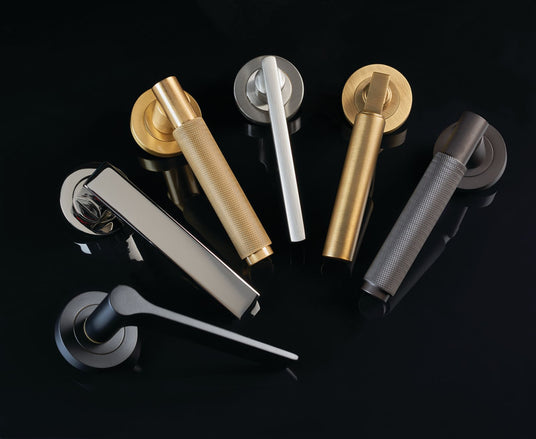 As you navigate through the Trade Door Handles website, you'll discover an intuitive search and filter system designed to make your shopping experience effortless. This system allows you to refine your choices by finish and price, ensuring that you find the perfect Door Handles and Knobs that align with your style preferences and budget considerations. With Trade Door Handles, you can embark on your home decor projects with confidence and finesse.
Discover Our Range of Door Handles and Knobs
Door Handles on Backplates

At Trade Door Handles, we offer an extensive selection of over 2000 door handles on backplates, featuring a variety of designs and finishes to suit all tastes. Our collection includes door handles with standard mortice keyholes, euro and oval profiles, bathroom locks, privacy locks, and standard internal latch options. See the Range
Explore our diverse range of over 2,000 door handles on square and round roses, featuring unique designs for both traditional and contemporary homes. Door handles on roses are versatile and can be used on any internal door in your home. Pair the lever on rose door handle with a combination of latches, locks, and thumb-turns to meet your room's specific requirements. See the Range
Mortice Knobs and Rim Knobs

Discover a large selection of mortice knobs and rim knobs, offering hundreds of options in various styles and finishes. Differentiate between Mortice and Rim Knobs: Mortice Knobs are designed to operate mortice locks or latches within the door, while Rim Knobs are specifically made to fit rim surface door locks. See the Range
Our extensive collection of Pull Handles for Doors offers hundreds of options in various styles, sizes, and finishes. Whether you need bolt fix, face fix, back to back options, or pull handles on a backplate, we have you covered. Our pull handles cater to both traditional and modern styles, making them suitable for a wide range of applications. See the Range
Multipoint UPVC Door Handles

Browse our selection of UPVC Door Handles, offering hundreds of options in various styles and finishes. Multipoint handles are typically used on UPVC external doors, providing enhanced security with three points of locking. Ensure compatibility with your locking system by selecting the correct door handles, as fixing centres may vary. See the Range
Explore our wide range of Thumb and Ring Latches, offering numerous options in various styles and finishes. These latches are commonly found on external wooden gates and traditional/rustic homes. Thumb Latches feature a decorative handle on the outside of the door, while Ring Gate Latches are simple, round-shaped handles used on gates and doors. See the Range
Choose from our extensive selection of flush handles for sliding doors, available in various styles and finishes. From small round flush pulls to large rectangular flush pulls and flush edge pulls, we have a solution for every need. These handles are ideal for use on sliding and folding doors, providing a sleek and space-saving design. See the Range
At Trade Door Handles, we aim to provide the largest range of door hardware, hinges, and latches for all your home needs. Our internal door handle packs include everything you require for individual doors, including a pair of handles, the appropriate lock or latch, quality hinges, and all necessary fixings. See the Range
At Trade Door Handles, we're committed to simplifying your shopping experience, making it effortless and enjoyable. Our user-friendly website lets you easily explore our extensive range of Door Handles and Knobs. With convenient filters for finish and price, you can effortlessly find the perfect items to match both your budget and personal style.
Embark on your home transformation journey with Trade Door Handles today. Count on us to provide beautiful, exceptional-quality products that stand the test of time. Browse our selection now, and experience the difference that meticulous attention to detail can make. Your home deserves nothing but the best, and Trade Door Handles is here to deliver.