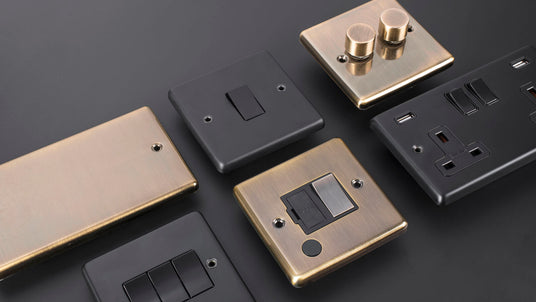 Our extensive range of products is available in a plethora of finishes and designs. Whether you're looking for a sleek, modern aesthetic or a timeless classic, EuroLite has the perfect solution to elevate the ambience of your living spaces.
Navigating through the Trade Door Handles website, you'll find an intuitive search and filter system, enabling you to effortlessly refine your choices by style, finish, and price. This ensures a seamless experience in discovering the perfect EuroLite Electrical Switch and Socket that align with your requirements, empowering you to embark on your home décor projects with confidence and finesse.
Discover The EuroLite Collection
With its ultra-slim 3mm profile, this concealed socket seamlessly integrates into walls, providing a clean and minimalist appearance. See the range
Put the perfect finishing touches on your interior with the wide range of Eurolite Concealed 6mm switches and sockets. Though smooth to the touch, their metallic finish has an eye-catching textured appearance that complements both domestic and commercial settings. See the range
EuroLite - Enhance Decorative

Raised rounded edge products, designed to give a contemporary look. Features five plate finishes to suit all styles, including 6mm concealed shaver sockets, cooker switches, dimmer switches, and more, all meticulously designed for both style and performance. See the range
EuroLite - Enhance White Plastic

EuroLite - Enhance White Plastic electrical switches and sockets at competitive Trade Prices. We understand the importance of quick delivery to keep your projects on track. See the range
For outdoor needs, check out our weather-resistant enclosed switches and sockets. See the range
A heavy-duty range of switches and sockets ideal for use in industry, commerce, and the home. It has a tough durable finish which is resistant to premature aging, discoloration, and corrosion. See the range
Finished with a durable powder coat that reduces corrosion and prevents premature aging, the EuroLite Utility Metal clad range is up to the task. Including switches, sockets, fused spurs and features such as USB outlets and RCDs, make your workshop as functional as it can be with the EuroLite Metal clad selection from Trade Door Handles. See the range
EuroLite - Stainless Steel

Choose from a stunning variety of finishes, including Black Nickel, Matt Black, Polished Brass, Polished Stainless Steel, Satin Brass, and Satin Stainless Steel. Explore our complete collection, including shaver sockets, cooker switches, dimmer switches, and more. See the range
At Trade Door Handles, we are dedicated to simplifying your shopping experience, ensuring it's effortless and enjoyable. Our user-friendly website is designed to help you effortlessly explore our extensive range of EuroLite Electrical Switch and Socket. You can easily narrow your search using convenient filters for finish and price, ensuring you discover the perfect items to match your budget and personal style.
Now is the moment to embark on your home transformation journey with Trade Door Handles. You can rely on us to provide you with beautiful, exceptional-quality products that stand the test of time. Take a moment to browse our selection today, and you'll quickly notice the difference that meticulous attention to detail can make. Your home deserves the best, and Trade Door Handles is here to deliver.