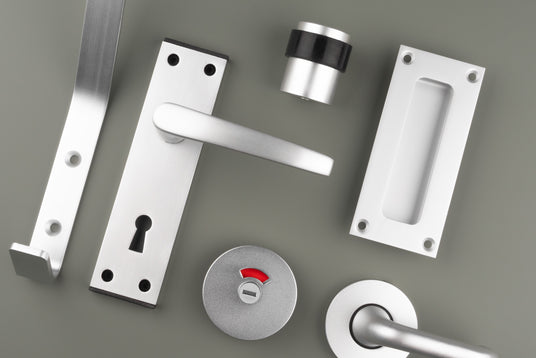 EuroSpec is more than just door handles. We offer an array of locks, hinges, door closers, and other essential accessories to ensure your projects are executed flawlessly. Our hardware not only excels in durability but also boasts modern flair, making it perfect for contemporary homes, industrial buildings, hospitals, and schools.
At Trade Door Handles, navigating our website is a breeze. Our intuitive search and filter system empowers you to effortlessly refine your choices by style, finish, and price. This ensures a seamless experience in discovering the perfect EuroSpec products that align with your requirements, allowing you to embark on your domestic or commercial projects with confidence and finesse.
When you choose EuroSpec from Carlisle Brass, you're embracing a brand known for unmatched durability and functionality. Explore the complete EuroSpec range now at Trade Door Handles and elevate your door hardware to new heights.
Unlock the full potential of your projects with EuroSpec – where excellence seamlessly combines with functionality. Don't miss out; visit Trade Door Handles today to peruse the comprehensive EuroSpec collection and take your door hardware experience to the next level.
Discover The EuroSpec Collection
EuroSpec - Door Handles and Knobs

EuroSpec offers an extensive range of commercial door handles on backplates and roses, crafted from various grades of stainless steel like 304 & 316, as well as satin anodized aluminium. These handles require very little maintenance and are often fire door tested, meeting the highest standards required for commercial projects. EuroSpec's levers are not just functional but also add a touch of modern elegance to any home. See the range
EuroSpec - Door Furniture Accessories

For larger industrial projects or schools, EuroSpec offers a wide range of door furniture accessories, available in various grades of stainless steel like 304 & 316, as well as satin anodized aluminium. Our selection includes Door Closers, Escutcheons, Finger Guards, Fire & Acoustic Seals, Door Stops, Kickplates, and more. See the range
EuroSpec hinges are versatile, making them ideal for both commercial and residential settings. Whether you're outfitting an industrial building, a hospital, or a contemporary home, EuroSpec hinges offer the perfect solution. They come in a wide array of designs, qualities, and finishes, including options tailored for fire doors, meeting the stringent UK standards for 30 and 60-minute fire doors. See the range
EuroSpec - Locks and Latches

Are you in search of high-quality EuroSpec Locks and latches for your commercial or residential needs? EuroSpec caters to all situations, whether you're looking to replace an old lock or re-fit an entire school. At Trade Door Handles, we have you covered. See the range
EuroSpec offers a wide range of Ironmongery and Hardware accessories to complete your project, from cranked or straight door bolts to stainless steel cabin hooks, or intumescent kits for hinges or locks. At Trade Door Handles, we have you covered. See the range
EuroSpec - Cabinet Hardware

EuroSpec offers a select range of commercial-grade Stainless Steel or SAA cabinet knobs, pull handles, or flush pulls that can also be used around the home. But our offerings don't stop at EuroSpec alone. For even more kitchen and cabinet hardware ideas, we invite you to explore the Finger Tip Design range by Carlisle Brass. See the range
At Trade Door Handles, we are dedicated to simplifying your shopping experience, ensuring it's effortless and enjoyable. Our user-friendly website is designed to help you effortlessly explore our extensive range of EuroSpec Hardware and Ironmongery products. You can easily narrow your search using convenient filters for finish and price, ensuring you discover the perfect items to match your budget and personal style.
Now is the moment to embark on your home transformation journey with Trade Door Handles. You can rely on us to provide you with beautiful, exceptional-quality products that stand the test of time. Take a moment to browse our selection today, and you'll quickly notice the difference that meticulous attention to detail can make. Your home deserves the best, and Trade Door Handles is here to deliver.